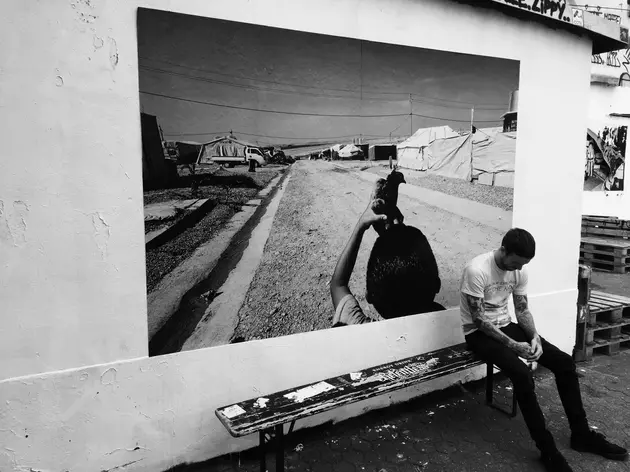 Into the Nightshade of Nothing With Night Sins
Courtesy of Domenic Palermo
Night Sins is Kyle Kimball, who originally did time as a member of Mother of Mercy and eventually the gothic punk band Salvation, which led the way toward his entry as drummer from Nothing. Night Sins precedes Kimball's entry into Nothing, and dabbles with everything from Sisters of Mercy and Bauhaus to EBM, Joy Division and all goth-inflected spots in between. The latest LP is Dancing Chrome, and it's due in April on Funeral Party. Stream the new track "Daisy Chain" from that LP for the first time below, and order yours. 
Considering his time as a member of Nothing, and their extreme amount of activity to this point, we decided to corner the drummer to talk about the making of Dancing Chrome, his work with Arthur Rizk and finding moments of bliss amid the tumult that is the music industry. The results of our conversation, including a stream of "Daisy Chain," are below.
Considering your heavily active schedule with Nothing, when did you put the new Night Sins LP together?
I have no idea, honestly. I wrote it over the course of the past couple years in real short intervals between tours. I've been home for a month now, which is probably the longest I've been home in a year, and I haven't done a goddamn thing aside from severely ruin my body. It's hard to be motivated to do anything productive when your time at home is so brief, but I'm glad I was motivated at some point.
How was the new LP written? Does it feature any contributions from different personnel?
I wrote it all in my basement on an 8-track recorder. Arthur [Rizk] played the guitar solo on "Enamored" and "Nailed Shut," and Nicky [Palermo, Nothing frontman] played a two-note guitar diddle on "Crystal Blue," but that was it. The rest is me.
Arthur Rizk is known for productions that range from Power Trip to Inquisition. You've done all of the Night Sins material with him thus far. What makes him the man for the job, considering his background?
I've recorded every Night Sins record with Arthur for the past six years. He was an easy choice because he likes everything, musically, and he can do anything he wants to do.  I've been playing drums in punk bands since I was 14, but I don't know anything about drums ... just like I don't know anything about recording or pedals or any gear. I never cared about that shit. I recorded all the synth for every Night Sins record with a microKORG I bought on Craigslist. People come up to me at Nothing shows all the time and ask me questions about that stuff, but I can't answer them. It's all Arthur making everything sound proper. He has made such a name for himself in the metal world, but if I had to guess, he's probably listening to ABBA or Fleetwood Mac right now.
How did you approach this LP differently than some of your previous efforts? Were there things that you wanted to change going into this?
I played real drums on this LP, whereas the others had a drum machine, but the approach was the same. I just want to write songs I'll like and that, hopefully, Arthur finds interesting to record and be a part of. I figure only a handful of people actually care about this anyway, so as long as we're moderately enjoying ourselves during the process, that's something to be grateful for.
The deeper that an artist gets into a genre or style, the more they want to incorporate different elements and make them their own. This is your third Night Sins release. What was an example of that on the new record?
I'm not really sure what the genre [of the album] is. I think that's how I make it my own. There's a Madonna snare sample from "Lucky Star" on this record, and I'd say there's more of an influence from a band like Yazoo than the Sisters of Mercy. I pull from different facets of music, and however it all comes out is how it comes out.  I just want to keep getting better. I can't listen to the first LP anymore, but I think the last three records are still great, so that's something.
What is currently going on with Nothing? Death of Lovers?
Nothing is playing some fest in Michigan in a few days, and we're doing more dates with AFI in June. We'll probably go to Europe, then record a new record after that. I think Nicky wants to do another Death of Lovers LP, but it's nearly impossible to find time. I think he has some songs ready to rip, though.
What do you think is your proudest moment as a musician thus far? 
Maybe not having a job for the past three years. I guess playing music has turned into its own job, like everything does, but it was always something I wished I could accomplish in high school. Nothing played before Erykah Badu, too, once, so maybe that. Whatever it is, I hope it's not behind me. That would be awful.