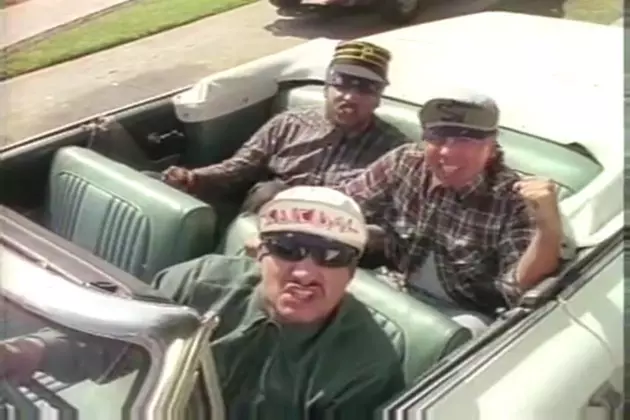 These Hardcore Videos Changed Music as We Knew It, Forever
Screengrab via YouTube
Music video: the necessary evil concocted as a roughly three-and-a-half-minute infomercial for a band's new album.
While videos may have stomped out many a radio star (beginning in 1981 with the advent of MTV), the medium had very little impact on the burgeoning '80s hardcore movement ... until it did!
Sure, there was professionally-shot visual evidence of the likes of the Ramones, Sex Pistols and the Clash dating back to the mid-'70s, but by the time each reached the consciousness of those outside the immediate punk movement, these acts were already closer to the mainstream than hardcore has ever been. For better or worse, these mostly major label-sponsored clips succeeded in pushing songs toward the rear, while thrusting a group's image to the forefront. Fashion over passion, as the saying goes.
Nonetheless, the "success" of music videos rapidly afforded almost anyone the ability to produce one, as they became much cheaper to create. It was only a matter of time before punk's angrier cousin, hardcore — birthed as a next-chapter reaction to the mainstream — jumped aboard the video train. What once seemed unfathomable was now akin to peanut butter accompanied by jelly, and a consistent part of the hardcore punk album release equation. Ultimately, videos changed the scene's landscape drastically and forever. Hell, at the very least, they helped us learn what gear to adorn ourselves with for the next gig.
Here are some of the most notable hardcore music videos that "helped" expose this thing of ours to every jerk-off we couldn't stand in high school.
Black Flag, "TV Party" (1982)
The only thing remotely "hardcore" about this Glenn E. Friedman-directed entry into the video fray is its hardcore goofiness! Not one member of Black Flag seems the least bit comfortable portraying the beer-guzzling couch potatoes running amok in this thing. While the song may have originally been designed to alert heads to the perils of obsessive televisionism and all that comes with it, "TV Party" was ironically received as an endorsement and celebration of said numb-nuttedness. Hardcore's first music video, and also its first fail.
Suicidal Tendencies, "Institutionalized" (1983)
"Institutionalized" was the first GREAT music video representing the hardcore movement, and set the tone for what was to come over the next couple of decades. If you were curious as to what this blue-flagging Venice Beach crew stood for after lending your ears to their self-titled debut album, you got your wish in abundance: punk, skating, thrashing, Venice and Pepsi! This clip even made its way into regular rotation on MTV for a spell. Plus, Tom Araya from the little-known Slayer makes a brief cameo up in there. Bandana sales went through the roof, and Coca-Cola stock sunk like a rock after this bad boy hit the airwaves.
Cro-Mags, "We Gotta Know" (1986)
The Dom Pérignon; the Porsche; the crème de la crème of hardcore music videos. Featuring live footage culled primarily from NYC's the Ritz as the Mags filmed their appearance in the movie The Beat. "We Gotta Know" exposes the raw essence of the mostly skinheaded Cro-Mags in all their hard-moshing and stage-diving glory. No one had seen anything quite like this in an "official" music video before this first hit MTV's Headbangers Ball and 120 Minutes. Club security staffers everywhere lost their minds coming to grips with how this thing was going to make their jobs a whole lot harder in the future. And for what it's worth, it's still a little strange watching them getting into a limo with skateboards.
Bad Brains, "Hired Gun" (1987)
What's most remarkable about "Hired Gun" is the fact that it is easily one of the worst music videos of all-time; especially considering it's associated with one of the greatest bands ever. The hitman concept is so cheesily executed, and the band footage of H.R., Darryl, Doc and Earl is grossly out of sync and recycled numerous times. The only thing saving this from standing as a complete loss is the crucial Harley Flanagan balcony-dive towards the end. Great song; however, a totally useless clip.
Youth of Today, "No More" (1988)
If you were still interested in eating meat after this half-music video / half-vegetarian public service announcement began floating around, more power to you. The visuals aligned with this track (lifted from YOT's final full-length album) disgusted you with enough animal-slaughter-for-human-consumption footage to keep you vomiting for a lifetime, and the intense live action captured at the Anthrax in Connecticut ain't too shabby either. The "Youth Crew" fellas acting all tough, though. Whatever. This clip never got any love from the prominent video channels, but remains an underground classic all the same.
Agnostic Front, "Anthem" (1989)
Shortly after its initial plays on cable TV video shows, and a couple more on Headbangers Ball, "Anthem" became known simply as the video with a million people onstage. This nearly perfect short documentary of a late '80s CBGB hardcore matinee was filmed at a benefit for frontman Roger Miret shortly before he headed off for a stint in the clink. The spirit of the event shines brightly, as does the chaos of shoehorning almost 1,000 people into a venue that can legally accommodate maybe 300. The Blood. The Honor. The Truth.
Murphy's Law, "Panty Raid" (1990)
This crudely assembled clip — for one of Murphy's Law's most fun tunes from their sophomore Back With a Bong album — mirrors what the band stands for all too perfectly: hardcore fun. If you're offended, I know of some emo bands you might dig. Jimmy G is an extraordinary front dude, and it shines through tremendously in "Panty Raid." Party the fuck on!
Bad Religion, "American Jesus" (1993)
While the clip isn't anything particularly spectacular, "American Jesus" served as an "Oh, that's what Bad Religion looks like" for those who had only heard their albums since the group's inception 14 years prior. One of the most important bands in the arc of punk rock/hardcore, and this song is easily one of their historical best. The fact that fans worldwide got to have a Bad Religion video at all is enough to have the group included here.
Biohazard, "Punishment" (1993)
Decidedly more "crossover" than straight hardcore, this joint brought that Brooklyn street-style across the globe to metalheads who had long tired of tucking their stonewashed jeans into ratty-ass Reebok tongues. "Punishment," which was produced and directed by members of the Cro-Mags and Antidote, respectively, is an artistic peek into a universe where raw New York hip-hop style collided with steamroller-like metallic soundscapes. Kids the world over wanted to be these guys after this dropped, as well as tattoo artists everywhere are still sending thank you letters to the fellas.
Sick of It All, "Step Down" (1994)
Who said you can't be angry as fuck AND funny AF at the same time? "Step Down" is essentially a faux-expose (fauxpose?) on the phenomenon of New York slam-dancing styles, including "Classic NY Style," "The Gorilla," "The Lawnmower" and "Picking Up Change." The song itself is a banger, and the video goes where most hardcore bands fear to go with the funny. Beavis and Butt-Head even showed some love back in the day, so you know it's a certified classic.
Downset, "Anger" (1994)
Another crossover joint, this time from Los Angeles' Downset, formerly known as Social Justice. This anthem seemingly came out of nowhere, and let heads know how the west got down in a post-L.A. riots context. Probably due to the group's affiliation with a major record label, "Anger" received more exposure than their modest stature as a band should have afforded them, but the song is fire, and they did tour with all the "right" bands.
Shelter, "Here We Go" (1995)
Yup, Krishna-core on MTV! The song rails against the perils of casual sex, and former Youth of Today bullhorn Ray Cappo travels the more scenic streets of New York City upside down from the back of a truck. The message and visuals are equally powerful throughout this beautifully-lensed two minutes and 40 seconds.
Madball, "Pride (Times Are Changing)" (1996)
Madball brought the realness with this, their second-ever video clip and first from their crushing sophomore effort, Demonstrating My Style. "Pride" is an Oi-flavored street anthem set against, what else, a massive pile of urban decay. Frontman Freddy Cricien comes like a Don, stalking the scene and sitting atop the destruction on a virtual throne. If Biohazard used their videos to help introduce New York street style, Madball signed off on its authenticity and made damn sure you knew hardcore wasn't just a game.