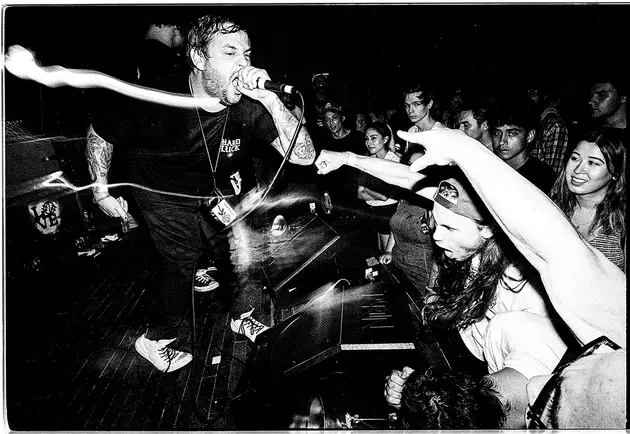 Culture Abuse 'Dream On' About Three-Guitar Power-Pop Attack
Courtesy of Reid Haitchock
It's a lazy Sunday afternoon in Brooklyn, and Culture Abuse are ready to relax. Just a few hours removed from the last show of a U.S. tour with Citizen and Nothing, the Bay Area sextet is ready for a little bit of R&R, and have arrived at a BBQ to blow off some steam before the gig. The tour has been fruitful, introducing the world to the white-hot LP Peach (out now on 6131), which reimagines Bob Mould's Sugar as a hardcore band; the track "Dream On," the subject of today's new video (which makes its world premiere here), is a perfect crystallization of that sound. Check out the video below.
Much like the recorded material, but with a rawer, more hardcore edge, Culture Abuse's live show is fun. Vocalist / primary songwriter David Kelling is all about the stage dives and moshing, but also screams out to the crowd to remind them that the live show is a celebration. "This is a party! Come party with us!" is one of many things meant to push the show into wilder and wilder atmospheres. Though the crowd has, for the most part, never seen them before, the antagonizing works, and you can see the future: more stage dives, more spilled beer and more good times.
But the calm before the storm has settled in, and all six members are firmly in decompression mode, scarfing burgers and dogs while shotgunning beers (disclaimer: the author may / may not have shotgunned a beer in the latest video). Kelling and guitarist Junebug are ready to open up about the band, their process and life in the Bay Area. The results of our conversation are below.
(Side note: CLRVYNT is proud to present the NYC date of Culture Abuse's next tour, this time at Saint Vitus on October 26 with Drug Church and Neaux. Tickets go on sale Friday, September 16 at 10 a.m. Full dates are below.)
So, is this your first trip across the country? But you said you've been on tour previously?
David Kelling: We did a cross-Canada tour. We played a couple of shows out to Quebec City — just booked it out there with the Story So Far.
What's the relationship with that band?
Junebug: David grew up with bunch of them.
DK: I mean, they are younger than I am, so it's more like they grew up in front of me. [Laughs] They play their instruments very well and write very catchy songs. Sick dudes who just blew the fuck up. I was tour-managing them for the first four tours.
J: I thought the tour, for us, could be the first heavy band that young kids would see. I remember when I saw H2O with Box Car Racer. That was the first hardcore band I ever saw, and it got me into hardcore. I was, like, 13.
Peach has a very Bob Mould feel to it, specifically Sugar. Live, the delivery is very very punk. Was that sort of a goal?
DK: The recordings were done live, so it was more aggressive and heavy. That's how we planned it. Recording is about figuring out how these songs should sound. When we play them it's more like an outlet — a consequence of you sitting in a van all the time.
J: I think it's intentionally wilder live so that people can have a good time with us. We want a fun, big show, but we recorded the album a certain way, so it can be appealing to a lot of people. We played Chicago and it blew my mind. People went crazy — singing along, stage-diving … people were going nuts. It made the vibe so cool. When we play live, Dave tries to tell everyone, "You paid money to get here — don't you wanna have some fun right now?"
DK: It's our way of being appreciative. There are bands who just act they don't want to be there. It's their thing. That's their look.
So, Nothing, that band you've been touring with — they've been around the block. They've played in Horror Show, so there's a more traditional hardcore element, and they're taking it to this whole other realm. You guys are taking hardcore to this different place, too.
DK: That's what I want. I know with this record we want to be heavy on melody. The songs are catchy. We want to write some shit like ... And Out Come the Wolves.
Great record. I think the thing that's most interesting is the three guitars. Where does that come from?
J: There are different songs [where] we are doing different parts. Like "Dream On": Shane [Plitt] did this crazy-ass bass line, and Anthony [Lasalle] kind of falls along with it while he's doing the lead. I was just strumming like crazy. And Jello, too. Jello, he's got like this back-up guitar that's like a lead, in a way. We all complement each other. It's a very natural feel. We could have two guitars or we could have three guitars, but it's better with three because we all feed off each other.
DK: Ideally, I would like a million people on stage — to have actual back-up singers, or, like, organs …
J: Dude, chill. Don't lose your shit, dude. [Laughs]
DK: That would be so sick.
Everyone brings in a different element. So, what do you guys have next? Just staying on the road? Are you that kind of band?
DK: I don't know. I like having fun, I like playing shows, and it's sick to get to see new things and different places. I'm just want to get the music out there. But I would also love to be the Beatles or the Beach Boys — just stay at the studio, and write, everyday.
You guys are from San Francisco. I feel like that city is in a similar place as NYC in that it's so expensive to live in. What do you guys think about what's going on in SF now? It's getting harder and harder to be a band out there, much like here.
J: I feel like that's why we are technically homeless at this point, because you can't afford to be in a touring band of our stature and pay for an apartment. I pay $650 for a living room Dave was paying $900 or $1,000 for a decent room.
DK: It's an epidemic in SF right now. Our landlord would say, "If you guys get bedbugs again, you are in trouble," but there's rats everywhere. San Francisco is sick — it sucks, but it's sick, too. You can't get too comfortable anywhere, especially if you wanna make music. Like, in this economy, it's not like you can make any kind of music for a profit. This is for the youth.
The response to the new LP has been widely positive, but judging from your interests, it sounds like you want to keep it going in the studio. Do you think you will have a record next year? What's your writing process like?
DK: Hopefully. I write on acoustic guitar. On this record, Matt and I would jam songs, and then bring [them] to the whole band ...
... and everybody interprets.
DK: Yeah. It already sounds like a million times different. In my head, I'm like, "This is the Clash!" And now, it sounds like there's the reggae part, and all this other shit.
J: David is the brain. He comes up with the melodies, the catchiness, the tempo, and we all just sit in the room, jam on it forever, get drunk and take it somewhere else.
DK: It would be weird if we take some time to write and actually record. Because our label told us that if we wanted our first full-length out before tour, we'd have to hustle.
J: That gave us like a month and a half ...
DK: ... and we didn't have a drummer. My friend recorded us in off-hours in the studio.
J: He's almost like a member of the band. I've done records before where I've asked for advice from the engineer, and they would be like like "Dude, it's your record, like, whatever you wanna do." Scott [Goodrich] is very nice, and if he really wants you to do something better, but doesn't want to hurt your feelings, he'll make fun of you in a funny way. You don't feel bad about it, but you know it's serious.
Last time we were there, we were kind of doing everything out of the engineer's room, and he put a TV there. The entire time that I did my guitar parts, I watched videos of Motley Crue live in 1983. (Laughs) It was, like, fucking six hours of Mötley Crüe live shows. That was my situation.
Sept. 22 — San Diego, CA @ Soda Bar +
Sept. 24 — San Francisco, CA @ The Chapel +
Sept. 25 — Los Angeles, CA @ The Echo #
Oct. 12 — Omaha, NE @ Waiting Room *
Oct. 13 — Des Moines, IA @ Vaudeville Mews *
Oct. 14 — Lansing, MI @ The Loft *
Oct. 15 — Cleveland Heights, OH @ Grog Shop *
Oct. 16 — Columbus, OH @ Ace of Cups *
Oct. 17 — Buffalo, NY @ Studio at Waiting Room *
Oct. 18 — Toronto, ON @ Mod Club *
Oct. 20 — Ottawa, ON @ Zaphod Beeblebrox *
Oct. 21 — Montréal, QC @ Bar Le Ritz *
Oct. 22 — Providence, RI @ The Met *
Oct. 23 — Hamden, CT @ The Ballroom *
Oct. 24 — Oneonta, NY @ SUNY Oneonta Hunt Union Ballroom *
Oct. 25 — Asbury Park, NJ @ House of Independents *
Oct. 26 — Brooklyn, NY @ St. Vitus %
Oct. 27 — Baltimore, MD @ Ottobar *
Oct. 28 — Virginia Beach, VA @ Shaka's *
Oct. 29 — Wilmington, NC @ Ziggy's By the Sea *
Oct. 31 — Charlotte, NC @ Neighborhood Theater *
Nov. 1 — Louisville, KY @ The New Vintage *
Nov. 2 — St. Louis, MO @ Off Broadway *
Nov. 3 — Little Rock, AR @ Revolution Music Room *
* w/ Touché Amoré, Tiny Moving Parts
+ w/ ... And You Will Know Us by the Trail of Dead, Creepoid
# w/ surprise special guests, Creepoid, Cologne