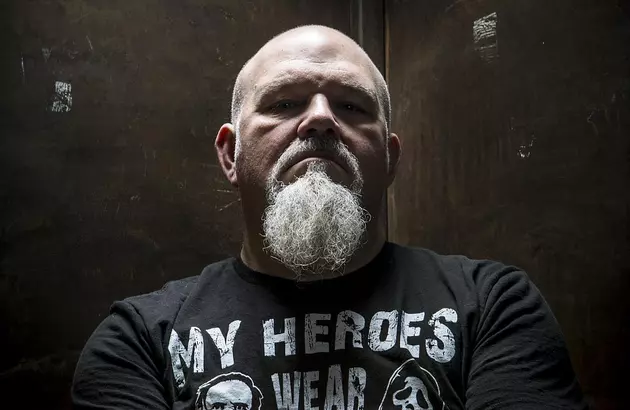 Why Crowbar Co-Founder Todd Strange Took Almost 17 Years Off
Jimmy Hubbard
Todd Strange was supposed to be at a club when he answered the phone, getting ready to play another packed show with Crowbar. He wasn't.
Fears of Hurricane Matthew had cut the tour short and steered the band back to Louisiana, where Strange was instead enjoying a lazy Sunday at home. And in some ways that made a lot more sense. Tour, after all, is still a little out of the ordinary for a man who recently rejoined the legendary sludge outfit he co-founded. He's played less than two months' worth of shows after a hiatus of nearly 17 years. During that interim, he raised his son and worked 9 to 5, a more or less quiet life detached from a scene he'd helped shape for a decade.
But with Crowbar's 11th album, The Serpent Only Lies, set for an October 28 release, Strange gives a rare interview about why he quit, why he came back and why he plans to never leave again.
When did you start considering coming back?
Back in January, Kirk [Windstein, vocals and guitar] asked if he needed me, if I would be in any position to come back to the band. And I told him I'd think about it. But I had one stipulation — we gotta work. As long as I can pay my bills, I told him, I'm back in.
What was the job you were working at?
I was working for a rental company as a heavy equipment mechanic. A couple childhood friends of mine were managers at the place, and even before I left the band, they would ask me, "Hey, you ready to come to work?" And then I met the so-called woman of my dreams, and I was having a kid, and they asked, "You ready to come to work?" And I thought, "Why not?"
What changed?
It's one of them things where it was time to leave the job. The job wasn't what it used to be. I made good money and had insurance and the retirement and all that other shit. But I wasn't happy. I don't know if you've had that job where you woke up and dreaded going to it. It is the most miserable thing in the world. Money isn't everything. The job I gave the band up for ended up being the job I gave up for the band, 16 and a half years later.
Were you playing music in the interim?
I would maybe pick it up and fiddle around. I started jamming with some guys maybe a year and a half ago, but nothing serious. And I quickly realized that it was fun, but something was missing. So, when Kirk actually asked me, it was one of the toughest and greatest decisions of my life.
Why was it so hard?
I left a good job with good benefits to play music, some unknown or whatever. Telling my mom was actually the hardest conversation I had. I'm 50 years old, and I'm scared to tell my mom I'm gonna quit my job and go back to playing music. [Laughs] She told me she always knew I would play music; she just didn't know it would be so soon. But she was all right with it. She took it a lot better than I thought she would.
How did your son react?
He told me, "Dad, if it don't work, we'll figure it out." And I had all I needed to know. I've been gone a lot, but he knows I'm coming back. That's the important thing. And when I'm home, I'm the one taking him to school and picking him up from school and all that good stuff.
Did getting back into this life feel rusty at first?
It fell right back into place, which was kind of weird. The whole group around here — I went away and didn't see anybody for years. But I came back and we picked up where we left off — God's honest truth. And I literally worked right before I left for the first tour. I finished on a Friday and we left on a Tuesday. They had pretty much recorded every thing for the record, and Kirk was just doing vocals. But when I knew I was coming back, I was in the studio pretty much every night. I'm still learning songs. In fact, I have to learn the song that we're doing a video for next week.
How has it felt to be back on stage?
It's been great. I'm loving it. I've heard nothing but positive things. And we're not some big rock star group. We still load our own equipment and all that. There's none of that big glamorous rock star life you see on TV. This has always been a working band. I've always been grounded. I have good days and bad days, and I try to go out and talk to everyone. We just wanna get people to see us.
As an outsider, how do you think The Serpent Only Lies stacks up?
They did their homework. I think you'll find some of the hardcore elements that got replaced by more metal elements have come back. The real doomy stuff is there. Kirk will tell you that he went back and listened to some of the bands that originally influenced Crowbar: Trouble, St. Vitus, Carnivore. And you're gonna hear all that stuff. To me, some of the riffs are the heaviest riffs ever written. And I'm not just saying that. I might reap the benefits of it, but it's definitely been well-put-together and well-thought-out. And Kirk's vocals — he still sounds like he's been gargling with razor blades, but he's also gotten a little more melodic in his old age.
After making the decision to come back, you think you'll stick with it?
Kirk told me the other day, "Between us, we're 101 years old." Soon we'll be wearing knee braces and rubbing ourselves down with Aspercreme. But I'll probably do this until the day I die. Sitting around in a miserable job makes you think that you're only here for a short amount of time. The band is as solid as I think it's ever been. And I hope I'm that missing part they needed, where the band can go to the next step. At this stage of the game, it's all we can hope for. I was there in the beginning. And not too many people get a second chance to do something they love.