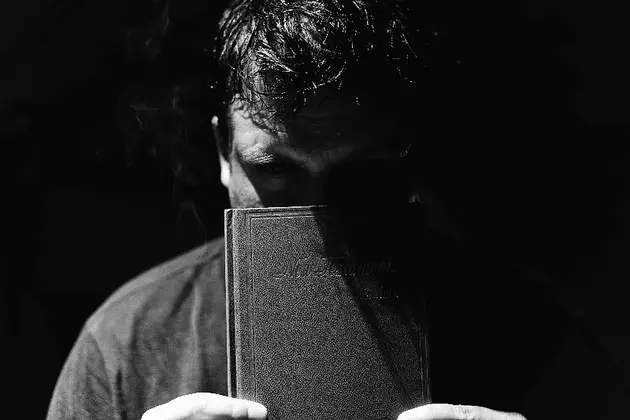 The Director of 'Maryland Deathfest: The Movie': 'Metal Is the Fucking Worst'
Courtesy of David Hall
Let's state facts: We 100 percent don't agree with the following piece by David Hall. But what we find totally intriguing is why it exists and why he sent it to us. Hall is the former head of Handshake Inc., a record label for several years that released everything from Rwake to Gridlink. In addition, Hall is responsible for shooting the early Maryland Deathfest documentaries, videos for several key artists (including Today Is the Day) and many other pieces of metal ephemera. He's always seemed to us to be a metal die-hard, which is why this piece is so perplexing — there is a world of metal that is out there dying to be discovered. Nevertheless, read on to see his full statement.
Metal Is the Fucking Worst
by David Hall
Is there any other genre of music that is so self-absorbed, so desperate for validation, so pathetically obsessed with itself, so childish and image-conscious, so accepting of conformity and mediocrity as metal? No. There isn't. Because metal is the fucking worst, at least in North America, and it needs to get right or go away forever.
Metal is a petulant little child that is wrought with an Oedipus complex, an oral fixation and a collective transference of identity issues (somehow stemming from a lack of identity) that causes it to be constantly screaming for attention. Metal ALWAYS needs a great big dick in its mouth to calm it down and stroke its melodramatic ego. Metal wants to be heard and seen. It wants to rebel; yet, if you look at it, it ironically shuns your gaze because you are not credible enough to soothe its aching teats. Metal wants to be different, but only within a strict set of guidelines. Metal is a tireless masochist. It suffers, it moans, it whines, it annoys; it is a culture of emasculation, castration, penis envy, communism, capitalism and third-grade intellectualism. Metal is weak, ill-formed, small-minded, an accident. Metal is modern man in search of a soul, yet it looks not to the heavens for answers — instead it stares in awe up its own gaping asshole, whispering with quivered lips, "You go, girl." Yes. YES. Metal is a cliche, a reproduction, derivative and fucking lame. Metal is an echo chamber.
Metal is in constant celebration of a victory it has never achieved.
Despite what people may say, metal was made real (not invented) by Black Sabbath on Friday the 13th, 1970, when the seminal "proto" metal band released its self-titled debut. Yes, various other bands and entities messed with elements of metal music and played heavy music, but the album Black Sabbath is metal articulated. Pressed onto wax and delivered promptly to the world via Apollo. Sleek, digestible, and the pinnacle of a musical movement. Measurable. Accepted. Born. Not questioned. Arrived. Hello, metal ... welcome to the world. See you in 40 years when something happens and your natural progression in the world has its chi blocked up something fierce and you become the worst. Failure to launch. Mid-life crisis. The last days of disco.
From the first spins of Black Sabbath, metal grew fast. As bands like Black Sabbath, Pink Floyd, Led Zeppelin and Deep Purple focused on songwriting, riffs and performance, other musicians crawled out of the swamp and started to take metal in new directions, effectively creating the first subgenres of metal that would lead us to our present state of affairs. Speed metal, black metal, death metal; which led to doom metal, glam metal and thrash; which led to grindcore, technical death metal and crossover; which led to a whole array of sub-sub-sub-subgenres; which ultimately led to "blackgaze," which, in my opinion, was the death knell of metal, and it's where we are now, and it really sucks and is shitty and it's the fucking worst.
So, what happened? When did it happen? How did it happen? How did a fertile, underground, credible, artistic and meaningful genre of music go unfettered for almost 40 years before it suddenly hit a wall? Well, like many journalists suggest, it wasn't Nazism, misogyny, racism or elitism. It is a fallacy to assume that one genre of music is discriminatory — a) music is inanimate; it isn't anything but sounds and words delivered on whatever medium is most profitable; b) music cannot "be" anything but music; any social and human behaviors attributed to music is transference and anthropomorphization; c) fuck off and put your personal politics into a medium or social construct where it belongs and works: social work, politics, medicine, engineering, volunteering — you can't change a light bulb with a piece of cheese, and you can't fix (or ruin) society with art.
No. Like most artistic movements, metal's death blow was commercialization. And more importantly, the widespread acceptance of said commercialization. I can pinpoint the exact point in time when this happened: June 11, 2013. What happened on this date? An album called Sunbather by a band named Deafheaven was released. This was the apex of metal's commercialization. 1999 - 2012 were creatively fertile, but financially lean times for underground labels. The vinyl boom was just starting to hit. Metal was not quite hip yet. Metal needed a kick-start. And thanks to commerce and cultural appropriation, it got one.
Like Black Sabbath — who did not invent the genre of metal, but perfected it and made it real and signaled its arrival in a measurable, quantifiable, identifiable package — Deafheaven made real (did not invent) a subgenre of metal called "blackgaze," a combination of black metal and the indie rock subgenre shoegaze. Yes, many other bands played this kind of music before Deafheaven. Yes, many bands in the parenting genres of black metal and shoegaze laid a fertile framework of music prior to Sunbather. But like Sabbath's Sabbath, Sunbather was a signal post. This post said, "We are blackgaze; we are marking this territory for our own; there will never be a better blackgaze album than Sunbather; we are taking a stand, planting our feet firmly and announcing that from this point forward, WE are the progenitors of a new scene."
And people bought it. Thanks to a propaganda campaign led by Pitchfork, Sunbather became a cultural force in the "underground" world of metal. Except it wasn't underground metal that was listening or buying. It was children, and those uninitiated and unaware. You know how Nirvana's Nevermind "invented" grunge, even though those of us who were there can clearly remember an organic scene called "indie" or "alternative" that existed for years before Kurt and co., appropriated it and sold it out? People at Dinosaur Jr shows weren't listening to or buying Nirvana. People at Pixies and Meat Puppets shows weren't listening to or buying Nirvana. And yet suddenly Nirvana dropped Nevermind and every asshole at the mall was wearing a flannel shirt. Well, that is Deafheaven and Sunbather. Nobody I know was listening to that band or buying Sunbather. In fact, anyone in the know resented their blatant skip-the-line success. But suddenly everyone at the mall was wearing corpsepaint and praising Loveless by My Bloody Valentine. No, the music on Sunbather isn't terrible. That's a personal call. Musical enjoyment is subjective. Whatever goes in your ears is for your ears only. But suddenly Deafheaven were everywhere, had the Breaking Bad of "metal" albums, and for a time, you know, it was fine. People wanted to buy their records. Sure. Cool. I mean, Pitchfork was guilty of selling an album as black metal that has no business being called black metal, but for the most part, the success of Sunbather was organic and fan-based: real, dedicated metal outlets pretty much ignored and/or scoffed at the band, and fans drove the album's success. Hey, there's no accounting for bad taste, right?
What happened next, however, was not organic, was not fan-driven or relatively harmless cultural appropriation. What happened next is what killed the underground scene and brought us to the point we are at now: Deafheaven, too $uccessful to ignore, started to be given credibility by the metal press. And even worse, other underground labels — much like the "grunge" frenzy in the '90s — started to look for more Deafheavens. Blackgaze, and other nonsensical subgenres that have no business being sold as metal, started to be sold as metal. And bands began to change their style to profit from this. Suddenly, a niche was making money. People were selling out. People were following their wallets. And the worst part is no one seemed to care. On August 4, 2016, eyewear conglomerate Luxottica, through its child company Ray-Ban, released an ad campaign featuring Deafheaven. It used their music, their images and their story. (Well, the campaign spun their story anyway.) Suddenly, Deafheaven were brave innovators who stood up to their critics, and against all odds, released an album. They had courage! #ittakescourage. That was the hashtag given to the Deafheaven campaign. Metal. Reduced to a fucking hashtag and a sunglasses commercial. And the worst part? Nobody said shit. People loved it! And any form of criticism was brushed off as "haters" or "Well, Deafheaven has always just been about seeing how far they can take it." The band sold themselves out and sold out underground music, and people fucking loved them for it. They were heroes. And anyone who said otherwise was a misogynist, racist, homophobic "edge-lord." That's when underground metal died for me. Not the music — I love the music ... well, not Deafheaven — but the spirit and ethos and individuality of metal. Sold to a fucking sunglasses company. It made me really depressed.
I suddenly felt like I was in The Matrix or Inception. At metal shows, everyone looked the same and acted the same. Throw the "horns" up and party! Be blind to the conformity that surrounds us. Eyes wide shut, please. Buy. Conform. Don't criticize. Go inside and eat supper with the pigs. Accept. Blame! Be inclusive for THE SAKE OF SOCIETY! WELCOME ALL CONSUMERS TO THE TABLE. MAKE METAL YOUR IDENTITY. CLICK. BAIT. CLICK. BAIT. MORAL SUPERIORITY THROUGH THINK PIECES!!!!!!! BUY TWO PAIRS OF RAY-BANS, THAT TAKES COURAGE.
Fucking weak, man.
When any work of art is co-opted by capitalistic intentions, you know it's dead. When underground bands start touring with "above ground" bands, you also know that band is dead. When bands are applauded for selling out, because "everyone has to make a living" and "artists deserve to get paid" — yeah, you know that shit is dead, too. No, the artist does not deserve to get paid. The artist deserves fair compensation from anything they make and sell, but anything the artist makes TO sell is not art. It's content. Branded content. And sadly, that's what most metal has become: a brand. As meaningful as the anarchy symbol. Metal is no longer just music. It's a social status. And that's why it has become the fucking worst. And I hope the bands and fans that really only care about the music keep it up. To quote one of the few fiercely independent and underground bands still going, Total Fucking Destruction, "the Revolution will not be televised, because the Revolution will not be."
Well, the Revolution might come … if it's profitable enough :)