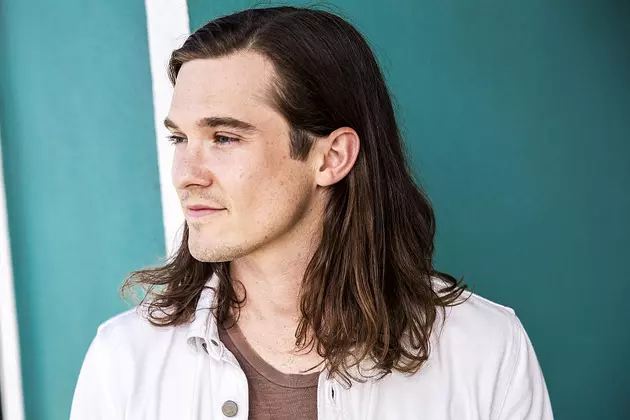 To Live and Die in L.A. With Chris Farren
Courtesy of Erica Lauren
There are certain spaces that are truly terrible for interviews. They range from the obvious (anywhere loud and prone to interruption) to the not-so-obvious (places so wildly uncomfortable that communicating via anything more than awkward chuckles should be considered a victory). The TMZ Hollywood Tour in sunny Los Angeles is both, and it's where I meet self-proclaimed internet celebrity Chris Farren, mastermind behind the now-defunct, beloved-in-the-scene Florida punk band Fake Problems.
The TMZ tour, much like the website / media conglomerate, centers on treating celebrities like alternative functional beings removed from the person-experience, exaggerated carbon-based shapes subjugated to the most extreme elements of the human condition — they're only good when they're getting married or divorced, stumbling out of clubs or having children. Their exploits are treated like history-altering events, the sites of which are deemed landmark-worthy. This is where the TMZ tour bus takes you, beginning at the Hard Rock Café in the middle of Hollywood, which rivals the chaotic, claustrophobic feeling of New York's Times Square. Once there, you're seated on a bus where an actual TMZ person (reporter?) points out sites of DUIs, all of the million businesses owned by Real Housewives of Beverly Hills queen Lisa Vanderpump, the Beverly Hills Hotel, even the spot where Kanye West hit his head on a street sign, all the while making jokes at the expense of all celebrities whose weight has shifted like that of a normal human being's. Farren tells the host he's from Florida (he moved to Los Angeles just five months ago, his first move, ever, from Naples, Fla.), and later is given the responsibility of shaking his hands to mimic a Shake Weight dumbbell. "I bought a bunch," Farren admits. "I'd find myself at a CVS or Walgreens checking out, and I'd see one and I'd buy it. At that time, it was like a meme before meme."
In the last few years, Farren has become something of an internet icon on his own right, in his own particular scene. It's most obviously illustrated on his Twitter account, where Farren plays the role of ultimate narcissist — on one level, it acts as an obvious commentary of celebrity egotism; on another, a creative outlet for Farren to express himself and this comedic persona he's crafted. "It started three years ago when I was really depressed and needed an outlet for my ideas," he says. "I quit drinking three years ago when I was crazy, super depressed. I always drank, but I wouldn't categorize myself as an alcoholic. It just wasn't something that was helping me become less depressed. Doing what I do, I would start to see patterns in other people's behavior, and they'd do what they do, but there'd be a loss of passion. It just seemed like something I'd be more productive without." If the TMZ tour and its cautionary tales are to be believed, he's onto something.
The tour ends where it began, at the Hollywood Hard Rock Café. We stop in to eat and I ask him how he felt about the ride through the extra-seedy side of paparazzi life. He shakes his head. "It made me feel bad for everyone involved. It made me feel bad for every celebrity in the world. It was mean. All the things she [the TMZ tour guide] said were mean … I think the desensitivity [of it] comes from being a person who wants to work at TMZ. They already know you're not the most upstanding, moral person in the world." He pauses. "I'm ordering chicken fingers because it moves me in no way. It makes me feel nothing."
Far removed from the world of TMZ, Farren is currently enjoying the release of his debut solo LP, Can't Die (SideOneDummy). It's an album that, despite its title, deals directly with mortality both internally and outwardly, all with a certain friendly lovingness. It's an album created out of necessity, one that only makes sense when considering the places Farren occupied before it: Fake Problems frontman; later, Antarctigo Vespucci co-mastermind (alongside BFF and Long Island ska punk hero Jeff Rosenstock); bachelor.
"[My wife] and I have known each other since we were 18," he says. "We started dating when we were super young; then we broke up for like a year, and then we got back together. One of my best friends' dad [Casey Lee of Fake Problems] died, and he was this great, awesome guy. It brought everyone together when he died. He died in a freak accident. I was on tour and we all came up from tour. I was with somebody else, and she came to the funeral with me. She was trying to console me and I recoiled. It felt bad for this person to be consoling me or to see me in such a vulnerable state. We broke up. Just from being around the family of the dad who died, [my wife] Cassie and I were always around helping, and it made us get back together." He stops to reflect. "I guess I've never really spoken about it … [to] realize how heavy it is."
A theme in Farren's life appears to be role-definition, trying to find his own space in a given situation. For Lee's father's passing, it was the good, loving friend. For Fake Problems, it was the glue, a man trying to keep everything together until he couldn't anymore. "Fake Problems probably had another two years after that before we really started to end," he says, choosing his words carefully. "I worry [that] because I am the only person in the band who still has any sort of platform ... what I say becomes the narrative of the truth. To me, it is the truth. I think it's not too far off from what happened. Casey quit after a while, [his] dad passed. When he quit, it was huge thing, a punch in the stomach. We were always a really ambitious band. He quit and I was devastated immediately, and then was like, 'It's fine. We can do it without him,' which ended up not being true. We spent the next year trying to write a record. I don't know if it was the whole thing of my confidence being shaken with him leaving, but it didn't feel good. We ended up making a record, coming to L.A., working with a producer. We made it and we didn't like it. When we found out we didn't like it, we realized it was over. We never put it out."
He continues: "We put two songs on a 7", and it came out and I didn't care that it came out. It reminded me of a terrible time in my life. It felt like a dream dying. Casey quit in 2011. It used to feel special, and then it stopped feeling special. It felt like we were just a band."
Farren did all that he could do to salvage Fake Problems, at one point going to New York for some co-writing sessions, working with songwriters the band's manager put him in touch with. It was something he'd never done before, something he was totally skeptical of, and something he refers to even now as "a total fucking disaster." He recalls the first time he wrote with a hired professional: "I did it with this guy who was a lot younger than me — he was probably 21 and I was 26, 27. He was this really cool-looking New York guy with a big hat. He was talking about himself in very douche-y ways the entire time. We were trying to write a song together, and he wanted to make a song that sounded like Muse, which ... I've heard that band, but I don't like that. It sounded like garbage. At a certain point, he was like, 'Sorry, man, I'm really distracted. I've got model pussy on the mind.' I said, 'Okay, man, we can stop doing this; we can get together tomorrow or something,' and I never spoke to him again. Disgusting."
That week, Farren decided to pay a visit to his then-acquaintance Jeff Rosenstock, who just celebrated the last show of his beloved band Bomb! The Music Industry. The pair hardly knew each other — save for a one-week tour in the distant past — and decided to write a song together. "We did, and it was by far the best thing I'd do that week in New York," Farren says. "Once [Fake Problems] got to the point where we recorded the album and realized it was never going to come out, I knew that I needed to do something. I had so many songs that, for some reason, Fake Problems rejected or disagreed on, so I called [Jeff] and asked him to do a split 7", like, solo, and he said, 'No, that's boring. Let's start a band together,'" and Antarctigo Vespucci was born. "We were both in a similar situation that was very unique — only we could relate to each other at the same time. We became really, really good friends really fast. I did some little solo release stuff, and then we made another Antarctigo 7" and we went out on tour together. Working with him gave me such a confidence; when I was working on all that Fake Problems stuff, I had no belief in myself. I did not think that I could ever make anything good again. When we did that stuff together, it made me believe in myself again."
The band would put out two releases in 2014 when Farren decided that he wanted to get better at recording himself. "The only way I could think of forcing myself to become good at something was to kind of put a deadline on it, to make mistakes, a little more than just a self-imposed goal on something just to get better at it," he says. "I decided I was going to write and record a Christmas album myself, all original songs. Because it was such a silly idea, it felt kind of safe to do. Even if it's the worst thing in the world, it's a Christmas album. I gave all the money for the proceeds to charity, a charity I believe in, NAMI, the National Alliance on Mental Illness. Selfishly, I also felt like it's something that would prevent people from being mean to me."
It worked, and Farren went from beloved former Fake Problems frontman to solo artist kids could look up to, one invested in an important conversation. "I've always personally dealt with depression," he admits. "I've always been sensitive and sympathetic to everyone's story or issue. You hear the expression 'Music saved my life' all the time. I started to think about that, to see it from a fan's perspective, and put myself in a position where music has such a healing power. It's such a big thing to say, but it's true. It's not hard for me to not be shitty. I don't often feel in danger of alienating people. I'll talk shit in private about bands I don't like, but that's the extent."
Farren quickly realized he couldn't really hit the road with only a Christmas album and two Vespucci 7"s, so he decided to make a record, to "have something of my own to stand on." It started with the last track on Can't Die, "Until I Can See the Light." "It was too sad to go on an Antarctigo record," he suggests. "It felt like a good way to close out the record. It's a sad song, but there's some sort of hope to it … There's no real joking on the record. It's kind of funny to me, and intentionally silly that the songs are sad and, musically, they sound very poppy. I like that. To me, that's funny. That song is about people dying, and it's hard to make jokes about people dying … I always worry about using songs … I'm singing about things I care about, but I'm also — this is very losing, but I'm selling it. It's a commercial product. It feels weird sometimes when I'm writing a song about something that is so serious to me and also something that is not mine, like someone dying: 'Check out this awesome song. Follow me on Twitter.'"
Sad songs set to happy melodies at this point could be considered a trope in popular music, but one based on expectation: Acts like Belle and Sebastian and the Cure are masters of it — we've grown to learn that the sentiment of those songs will be morose, but we'll dance away our tears. Farren's music doesn't lend itself to that presumed juxtaposition — these are straightforward, poppy punk songs, the kind where face value is usually an accurate reading. I tell him this is exactly why he'll have to talk about the mismatching concepts. He jumps up. "I don't care! I love attention!" he shouts, adding, "When I talk about myself, about being depressed, which comes across a lot on the record, I feel free to talk about that because it's mine. I'm not talking about someone else's life. I feel freedom to talk about because it's mine. Making it sound that way, it's not intentional, but in the midst, it reinvigorates me to be singing about what I'm singing about. If I'm writing about a family member or a friend or a girl I'm seeing, it's like … do you have the right to write someone else's narrative? It becomes such a touchy thing."
We decide that it's a sign of maturity, going from songs that assign blame or meaning on others to hoping to dissect a situation from all perspectives, to understanding that as an artist, he can only share his own — and attempting to avoid villainizing anyone in the process. It's empathy — perhaps too much so.
At this point, we've been at the Hard Rock Café for two hours, and it's time to pay. The waitress has guilted us both into taking a service survey, one that we both feel the need to not only fill out in full, but share our real email addresses on — for the record, she was a damn charming waitress. "I will go to such great lengths and make myself so uncomfortable to make someone else not uncomfortable," Farren admits. "One time someone hit me with their car when I was riding my bike, and I apologized to them. I did. I really, truly did. That haunts me that I did. They got out of their car: 'Oh, are you okay?' I said, 'Oh yeah, I'm so sorry!' They hit me with their car! I was nervous that they were going to be upset that they hurt me. What an insane thing to think! I didn't want them to feel bad for hurting me."
I laugh and he continues: "It's bad! I don't think it's good! It's kind of good … I'd be eaten by a dinosaur. I don't know what I mean by that. I would not survive in the wild, is what I'm trying to say." He stops, showing me his survey. "I wrote that my reason for not visiting the Hard Rock gift shop was 'too many shirts.' That's all I could think of."