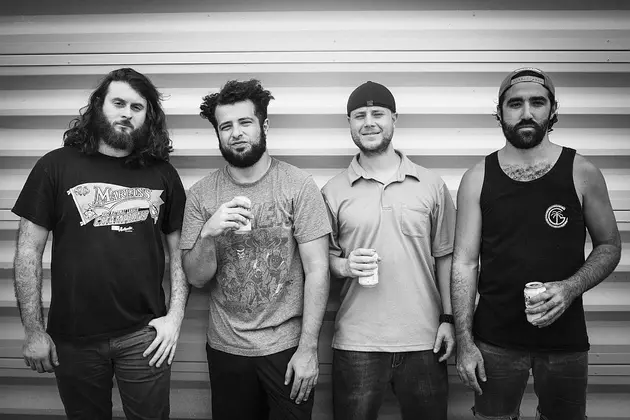 Wrong Are So Right About Their Top 10 Alt-Metal Riffs
Courtesy of Sammy Gonzales
Extreme music fans are often not only forgiving, but encouraging when it comes to artists whose lack of originality is a selling point, be it the development of old-school death metal as a respected subgenre or the tongue-ripping-through-cheek ravings of next-level Carcass clones the County Medical Examiners. We're not here to argue the merits of revisiting and reshuffling the past; we're here to express surprise that the slavish, loving tributes inherent in many newer death metal, doom and stoner rock bands rarely expand to alternative metal.
While you could argue that Nirvana spawned an endless diarrhea stream of parasites, and one-time Next Nirvana Helmet predated the drop-tuned disease that is nü-metal, most swindlers failed to capture the intelligence and serrated savagery of, well, Helmet specifically. Miami four-piece Wrong, on the other hand, nail it. 2014's debut EP Stop Giving was a potent resuscitation of Helmet's Born Annoying, and this year's self-titled full-length Relapse debut doubles down on the urban decimation, firing off noise-rock grenades that conjure the best of Unsane, Melvins and more. That's why we asked Wrong vocalist/guitarist Eric Hernandez to break down his 10 favorite alt-metal riffs of all time.
Corrosion of Conformity, "Broken Man"
"COC have a pretty diverse repertoire. They more or less single-handedly pioneered the blending of hardcore / punk / metal in the '80s. Then in the '90s, with the addition of Pepper Keenan, doom and gritty southern rock became more their staple. So, naturally, they would have some of the heaviest riffs ever churned out of a Gibson SG. The main riff in 'Broken Man' is undoubtedly one the heaviest."
Soundgarden, "I Awake"
"Another band with great riffs, this song is one of the heaviest ever written. Riddled with odd meters and searing vocals, every riff on this track totally devastates in true steamroller fashion."
Helmet, "Ironhead"
"Helmet had more than just heavy riffs; their riffs had that driving groove comparable to an 18-wheeler barreling toward you. The lead riff in 'Ironhead' has that exact feel; it takes you along for the ride, but you're kind of nervous because you think it's going to lose control, crash into Urban Outfitters and obliterate every poser in sight."
Primus, "Too Many Puppies"
"I don't care what anyone says: For a band that's anything but metal, Primus had some pretty heavy jams. Being metalheads in their own right (they regularly cover Metallica and, hello, Larry LaLonde was in fuckin' Possessed), Primus toured with all the heavy alt-metal bands while simultaneously redefining what heavy was. The riff on 'Too Many Puppies' sounds like a battalion of tanks marching on Capitol Hill — they just happen to be driven by puppies."
Melvins, "Boris"
"The original alt-metal band (or grunge, or sludge — mind you, lumping them into any category is simply irrelevant) the Melvins are pretty much the Sabbath of the '90s. They have an epic spectrum as far as any definable sound, yet they're heavier than most metal bands. A riff like in 'Boris,' the opening track from their classic album Bullhead, decimates any riff that came before it, in true Melvins spirit. It also paved the way for much of the doom sound — specifically a little band from Japan called Boris."
Faith No More, "Jizzlobber"
"Apparently immune to categorization, Faith No More released one of the most bizarre records ever on a major label in the early '90s. It wasn't the most commercially accessible record (which I'm sure was intentional), but that song 'Jizzlobber' has some crushing riffs!"
Floor, "Loanin'"
"Floor are one of the heaviest bands ever; there's no doubt about that. They may lean more towards doom in terms of execution, but musically they're more ... Hüsker Dü? Anyway, they're not metal. So, it's got to be alt-metal. Either way, their first 7'' [A-side],'Loanin,' came out in 1994, and is one of the most pummeling riffs ever!"
Alice in Chains, "Them Bones"
"One the most underrated riff masters is always Jerry Cantrell. 'Them Bones' is a classic example. Great riff, great lyrics, great guitar solo ... and you can tell he's not wasting a note. Maybe that's why he gets overlooked all the time — he's never flashy or overplaying. He just plays what the song needs. Which, in this case, is a heavy-ass riff."
Quicksand, "Fazer"
"Among the ranks of the most influential alt-metal bands like Helmet and Fugazi, Quicksand never quite got where everyone thought they were going. Tons of hooks and great songs; they just weren't around long enough. That and, every time they reunite, they break up again a week later. The opening track on Slip, their major label debut, is really just one of those no-brainers in the crushing riff realm."
Rollins Band, "Low Self-Opinion"
"Henry Rollins may have been the driving force of Rollins Band, but the group of musicians that filled out his sonically bombastic tantrums were some of the best around. Chris Haskett (guitars) Sim Cain (drums) and Andrew Weiss (bass) seamlessly flow from punk, noise rock, metal and even blues, making them one of the more innovative bands of their era. 'Low Self-Opinion' is pissed [and] abrasive, and the verse riff sounds like it can shatter plate-glass windows."