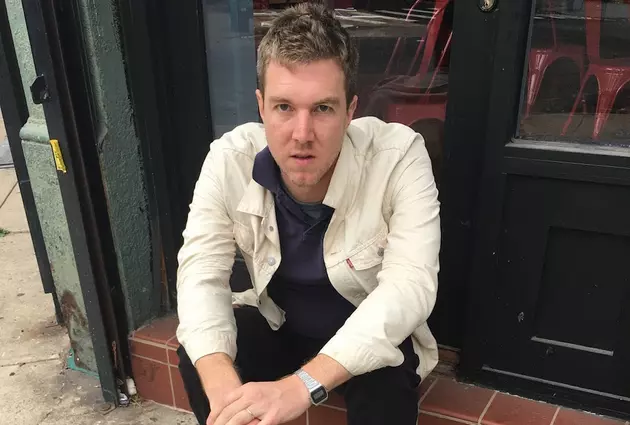 Avoiding the Rock Fantasy Vacation with Hamilton Leithauser
Supergroups are a great idea in theory, but hardly ever work out. Most of the time, musicians enjoy success due to an uncompromising, individualistic artistic vision, and the more people are added to that, the more those original ideas are diluted. Which is sort of why the new Hamilton Leithauser and Rostam LP is such an anomaly — and a welcome one at that.
You might know Leithauser as either a solo artist or the frontman from former indie staple, the Walkmen. Coming of age in early '00s NYC, the Walkmen found success in the same scene that gave birth to other indie titans like TV on the Radio, Interpol, the Yeah Yeah Yeahs and more, releasing seven LPs, including the bona fide classic Bows + Arrows in 2004. After announcing a hiatus in 2014, Leithauser struck out on his own with Black Hours, enlisting Paul Maroon (also Walkmen), Amber Coffman (Dirty Projectors), Richard Swift and more for the LP. Also among those collaborators was Rostam Batmanglij, formerly of Vampire Weekend.
The collaboration between Rostam and Leithauser that started with Hamilton's solo LP eventually blossomed into something much deeper with 2016's I Had a Dream That You Were Mine, the pair's first LP together, which hit on September 26 via Glassnote (order yours). Clocking in at 40 minutes, the collaboration is a successful one, recalling classic songwriting from yesteryear, yet never sounding dated — songs like "A 1000 Times" and "Rough Going (I Won't Let Up)" feel like they could sit as comfortably on Top 40 radio as your grandmother's favorite oldies station.
With the successful — and surely year-end-topping — LP out now, we cornered Leithauser to discuss the collaboration, his intended touring plans, punk / DIY ethos and whether menial work sparks creativity. The results of the conversation are below.
I was recently speaking to a friend about how certain musicians live in their own world, and how important that is. In between wearing your influences on your sleeve previously with the Pussy Cats record, and you name-checking classic songwriters, I was wondering how much modern music you pay attention to.
I'm always interested when somebody tells me about something new that they like. I try listening to as much new stuff as I can. That doesn't mean that I'm necessarily going to like it all, but there is a lot that I like these days.
It seems like when it comes down to your core songwriting style, a lot of it is very classic. That's reflected on the record, and in some sense, your record could exist 40 years ago.
Well, that's good to hear. But, I mean, at the same time, there's a lot of, like, modern sounds that Rostam brings that couldn't have existed. Like big sub basses and synthesizers. We were trying to update classic sounds and direct references to anything that would exist within the world of "shoo be doo wop." We wanted to bring our own modern take to it. I think the thing with me and Rostam is that, although we haven't known each other that long, we really do have like a very similar aesthetic and background in all the classic rock that we love.
So, when we were doing a song like "In a Black Out," where I have wanted to do a triplet-style thing inspired by Leonard Cohen, he and I can start working on something like that together, and he'll bring something to it that reminds me of another song that we both like. On "A 1000 Times," we didn't even need to discuss it; we just knew we needed a Hammond organ because that is a '60s sound. It sounds [like] Bob Dylan or something. It's like an unspoken thing. We were not consciously referencing each song afterwards you hear, but realized it consciously after. That only comes because we have a sort of similar aesthetic.
Do you think you two will do another record together?
I think we will. I don't know if it will be immediately, but we leave a couple of things on the table after those sessions. In the meantime, I'll go off and and work on my own material.
What else are you working on? Your solo stuff, I assume.
I actually am working on another record that I've been working on for a long time. I worked on it on the side while I was doing the Rostam record. I'm also doing all the music for this new podcast that my wife is now producing. I've never done soundtrack stuff like that before. Podcasts are a whole new frontier. It's called "Wall and Broadcast."
So, you have these dates coming in the new year. Are you planning on even more dates? Who will be in your band?
I'm going to do a long tour. I haven't done it in a while. I have a full band, and Rostam will come and go. It's healthy for us if we want to keep working together to not also be on the road together. So, he'll be in and out of the band several times. I got two guys from the White Rabbits, Steve [Patterson] and Greg [Roberts], Eric Harvey from Spoon and Nick Stumpf from French Kicks.
Kind of family vibes then.
Yeah, definitely. It's fun. They also know each other [from] over the years.
Obviously, there's a lot of instrumentation on the record. Will that be reflected in the live show?
I don't know. I don't try to recreate the record identically live, because that's not really that fun. But we do a lot of it. Our live show has gotten pretty good. My next show will be my first without him, but it sounds like the record. It just sounds a little more [like] hard-hitting rock live.
I've been seeing your projects for approaching two decades at this point, but one thing that I've always noticed — and this is no way a criticism — is that your vocals always seem on the verge of breaking. It always feels like you're straining. Have you ever had a serious vocal injury?
I've blown my voice out plenty of times now. Luckily, I was born with a very, very durable voice. So, from the amount of screaming and late nights that I've done in my life, amazingly, I have held it together. I'm getting older every day. Yeah. This show doesn't require as much of those huge side-splitting songs. It's not easy, but it's sort of more "singerly," with some very quiet moments.
Earlier Walkman days were different. More up-tempo, punk-style songs.
Yeah, I went through a phase where I didn't sing — I just yelled. For like a year and a half.
But on this record, as you said, it's more "singerly." With true falsetto.
A lot of that comes from the way we would write songs in the Walkmen. We would be together in the room, being really loud, and as a vocalist, I was trying to compete with the drummer and the guitar player right there in front of me. You've got to get really loud, and that's how we got our sound. And that's always where I was, in that register.
So, doing this whole thing with Rostam, we didn't have a live band — it was just the two of us in the recording studio. I would fly out to L.A. to record for five days, and we'd have coffee and breakfast and be at it by 7:45 or 8 AM, working 18 hours. I would leave, and then we wouldn't talk about music for six weeks. That was one of the things I liked the most about this record — having patience — because it's a long haul.
One thing we did was have one or two instruments down, and then we would record my voice a few different ways — record it right there with a couple different approaches. If we had something we liked with the vocals, we might even turn off all the other instruments and rebuild the song around the voice. Which is why I'm not competing — because every part stood on its own.
In a few interviews, you said that a lot of the songs you just kind of banged out very quickly, and then there were some songs that you sat on for five years. What do you think is your best process? The quick eureka moment or the slow burn?
Unfortunately, I do both, and I wish I knew so I would not just waste all of my time. I wish I could say I could come to it every two months and then have a moment and go do something else with my life. But I end up spending all my days working on music, and every once in a while something works. I think that any time I analyze anything is when it stops working. So, I just start with like a blank thing, and if something is not jumping out at you, you can keep working away at it; but usually, you're never going to build it into something great. Unfortunately, I have to have random moments where it comes to me.
Being a guy who's been playing music for the better part of two decades at this point, do you gain influence from stuff outside of the music realm? Artists, film, museums?
I used to work at the Metropolitan Museum. I worked there for six years, and at the beginning of the Walkmen, I was there for three of those years. I would walk through all the galleries and be surrounded by all this great art, and always thought I'd come up with these good ideas. When I was younger, I would think that association was irrelevant, like, "He's really trying to make up a story," so I would never talk about it. But it did work for a long time. I mean, the fact is, I came up with the lot of stuff standing right there. Maybe it was the air conditioning or something, or the rhythm of people walking or just getting some exercise. I wish I went there more. I don't have time.
You work on music full-time. Do you feel like having a job where you aren't creatively fulfilled, and then heading towards your music — does that help drive your creative muscle? The yin and the yang?
I definitely believe that. Menial work can be so helpful. I used to write so much music in college because I was just sitting there, not listening to anything anybody said. And when you don't have to do that, and you get a little success in a band and you're suddenly left with no day job, you can just rot. I used to build websites for friends' companies and stuff. This was long after I left the Met. I wasn't doing it for the money. It was when the Walkmen were touring a lot, and I would just do it when I came home. I didn't like doing it — it was boring as shit — but I felt like it did spur creativity. It might have been "I don't ever want to have a job like this," or it could have been just clearing your mind of anything distracting, creatively. You can slave away all you want, but you're only going to have a good idea every once in a while, so you might as well step back.
You're from the D.C. area. How much do you think that punk rock and the surrounding scene informed the way you approach music?
Over the years I've loved Bad Brains and Minor Threat, but I was a little too young to know what they were at the time. So, when I came of age, I was really into Fugazi and the Make Up, who were like the local heroes then. But then, of course, when I grew up, I found all of these others, and now Bad Brains is one of my favorite bands of all time.
But yeah, I think that the music has us thinking differently. Like, when I was out with the Walkmen and we would see a band opening for us with guitar techs and 10 guitars and all these guys carrying all their shit, it just made us all very uncomfortable. Even if we get to point where we can afford it, I just don't like it, and it's a turn-off. Maybe that comes from DIY? But I've never been into that rock 'n' roll fantasy vacation stuff.
Do you think you'll be playing at 50 or 60? Is that your goal, to ride this train until the wheels fall off?
I just like writing songs. There's nothing I like doing as much as that. I don't have any backup plans, but I'm not tired of doing it. I've been in points of my life where I was sort of tired of doing it, which is kind of dark, but I'm sure everybody gets to that point in their career.
You take anything that you love and you squeeze it ...
Yeah, or you put too much pressure on these things — it starts to not be about, "Do I love the song?" and becomes, "Is this going to play well at Glastonbury Festival?" I think right now I am in a great place with options of working with great people who are willing to work with me, which is an honor. I have Paul Maroon, who I can continue to work with — he's an incredible musician. Rostam and I will definitely work together again. And I have my own material as well now. Right now, the things that I honestly enjoy the most [are] recording my own stuff and using things that I picked up from guys like Paul and Rostam to find my own style. That's what's the most rewarding to me right now.